In our last post we set  you up with all the amazing decor for your Grown Up Halloween Party . Hopefully you've been busy working your DIY magic from all the ideas there. We all know that a party isn't a party, however, without some amazing food and mixed drinks, so here are some of our very favorite themed options for a Halloween party catered especially to adults that will be unforgettable!
If you haven't snagged them yet, there's still time to order your Halloween Pumpkin and Hocus Pocus Wine Charms so that your guests won't get their drinks mixed up, they're the perfect compliment to these spooky delights!
Speaking of drinks, it's no surprise that our favorite part of the party has to do with adult beverages. We know that you're going to love these spooky but delicious twists!
We can't get over how much we love this Chocolate Spider Web Martini and are pretty sure your guests will, too!
This Candy Corn Vodka is also sure to be a huge hit and couldn't be more simple to make.
We can't have the party be just all drinks, so here are some delicious and spooky treats to impress your guests eyes and tastebuds with!
These Dead Lady Fingers are as creepy as they are tasty!
It's mandatory to have some "brain" food at a Halloween Party. These Brain Cupcakes with Red Moscato Wine Shooters are the best variety of that, ever.
It's hard to go wrong with brownies, and these Leaky Cauldron Brownies will disappear  before you can say "Boo."
These Gingerbread Vampires are an unexpected sweet treat bound to start laughter and sweeten up any party!
Once you have the fun covered why not go for something a little more sophisticated? This gorgeous No-Bake Chocolate Eclair Dessert will win your guests over with its creamy goodness.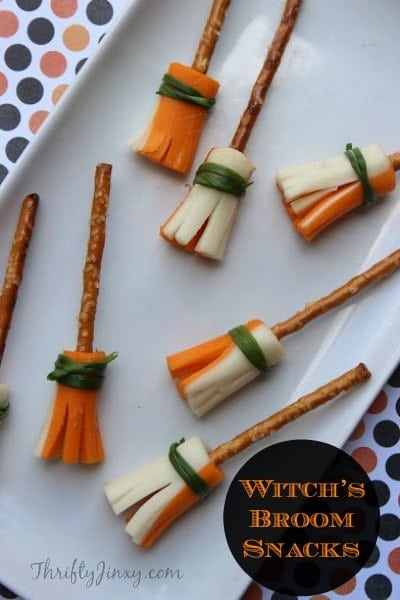 These Witch's Broom Snacks are finger foods meet cheese and wine pairing and a playful way to add some fun to your party, if you want to go more sophisticated swap out a more exotic cheese block cut into cubes for the string cheese.
Pair all of these together for a complete spread or mix and match for a party of your choosing, either way you're in for a spookily delicious time!
What's your favorite Halloween Party Treat? Leave a comment and let us know!